Google has Chromecast and Apple has AirPlay, and it is an open secret that each one of these every one of these streaming services works best on its own ecosystem: Chromecast on Android and AirPlay on iOS. However, it is possible to use an Apple TV as if it were a Chromecast from Android, using the appropriate applications.
while it is not as easy as pressing a button as happens with Chromecast, send videos -local or YouTube videos – to an Apple TV from an Android mobile is not particularly difficult if you have the app proper. We will use Castify, a free app, and powerful compatible with Chromecast, Roku, Fire TV, and yes, AirPlay.
initial Setup
Before you start sending videos to the tv via your Apple TV you will need to prepare the ground. On your Android phone you'll need to install an app that can send videos via AirPlay, as weird is that the function to share the mobile screen is compatible. A good alternative is to Castify (or Cast FLAT), an app is fully functional without paying anything, which is more than can be said of many alternatives.
Cast TV for Roku/Chromecast/Apple TV/Xbox/Smart TV
Developer: Castify
Download it from: Google Play
Price: Free
Category: is Players and video editors
Castify is free although it contains advertising. If you want you can remove with a single payment of 6,49 € that unlocks the ability to add more than two items to the queue, add markers or create custom themes for the application.
After you install the application, you need to connect with your Apple TV. To do this, while being contacted to the same Wifi network as the Apple TV, tap on the icon to convey in the upper-right corner and then choose it in the list. If you have questions about what is yours, should be shown on your tv after leaving it on for a while (or what you can see in the settings). You'll need to enter the PIN code that is displayed on the screen.
at this point the connection is already ready and the only thing that is missing is you to send content. Castify is quite versatile in this aspect, allowing you to send both local video like YouTube or even from a DLNA server or IPTV (although this is what you need to set you on your own).
Sends local video with Castify to Apple TV
After you perform the connection using AirPlay, to send local video -that is to say, stored on your mobile phone – is extremely simple. Tap on the file icon, locate the video you want to send, and you press your play button. In a couple of seconds should be displayed in the tele.
For some reason, the interface of Castify can be displayed in two different modes -after downloading the "additional functions", so that your app could appear different to the screenshots above. In such case, you can use the side panel to access the local files. The rest of the process is exactly the same.
Send YouTube video to Apple TV from Android
On Android it is extremely easy to send videos from YouTube and other apps compatible on a Chromecast, although the thing is complicated if you have an Apple TV. Luckily, Castify has a way to overcome the limitations by using a triquiñuela. To do this you must use the built-in web browser, and visit the YouTube website. The app even has shortcuts to popular web sites including YouTube.
The browser doesn't have anything special, but when you enter in a YouTube video supported is shown at the bottom of the window a panel with the videos that have been found (you may leave several, at different quality). Press the play button and will be sent to the Apple TV.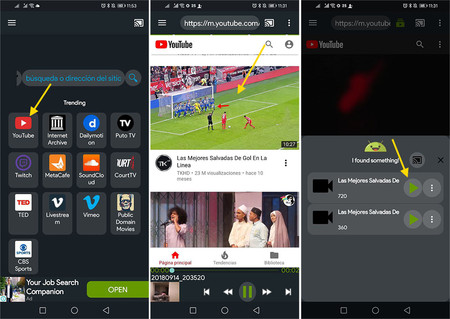 Keep in mind that by the time Apple does not officially supports the use of AirPlay from Android, so that the methods used by applications like Castify could stop working at any time. For now, it works perfectly, but you never know: take advantage while you can.
–
The news How to send videos from Android to an Apple TV via AirPlay was originally published in Xataka Android by Ivan Ramirez .

Xataka Android
How to send videos from Android to an Apple TV via AirPlay
Source: english
December 16, 2019